Universal Secured Line of Credit – Flexible Mortgage Account
Flexible mortgage account is a revolutionary new lifestyle banking service that will allow you to pay off your mortgage years earlier, increase your available credit line, save thousands of dollars, and relieve the month-end financial pressures many people experience being locked into fixed mortgage payments.
Flexible mortgage account! How does it help you?
Flexible mortgage not only combines all your debts, it merges your chequing accounts and savings accounts into onesimple consolidated account at one low rate of interest. It completely eliminates the need for separate personal loans, lines of credit, mortgages, and saving accounts, and chequing accounts. Flexible mortgage account also pays one of the interest rates on your positive balance.
Flexible mortgage account! Puts you in control.
By consolidating everything into one account, every dollar you earn works for you FIRST! You can use the account for unlimited chequing, interac, and bill paying needs but with one BIG difference. Now, every time you get paid, your entire income is used to reduce your debt and automatically increase your line of available credit. So, instead of having your income sit in a separate chequing account earning next to nothing, you can make it work for you at an incredible rate of return!
Flexible mortgage account puts you in control of your financial future.
Flexible mortgage account! Very interesting.
Because interest is calculated on a daily basis, you only pay for what you owe each day. In other words, every day that even one dollar of your income remains in your account you have less debt and you pay less interest. Over the lifetime of a typical 20 year mortgage, you could save $20,000 to $30,000 and pay it off in 13 or 14 years without doing anything different from what you're doing today…except to use flexible mortgage account!
Flexible mortgage account! Simple and convenient.
Flexible mortgage account offers everything a traditional bank account does plus more:
ATM/debit card – unlimited transactions
Cheques – unlimited transactions
Full telephone and Internet banking – unlimited transactions
One low monthly fee
And interest at Manulife One Base Rate*!
What is it?
Canada's first flexible mortgage account is a revolutionary way for you. It offers a total financial solution to you… and keep you out of banks! It's a new and better way for you to approach your personal finances, one that could save you tens of thousands of dollars in interest…without having to pay a cent more each month.
Flexible mortgage account replaces a client's traditional mortgage, personal loans, lines of credit, chequing account and short term savings. With a borrowing limit based on the value of the client's home, flexible mortgage account works by combining your mortgage – and any other debts – with your day-to-day finances (including your income!) in a single personal borrowing and chequing account.
How does a flexible mortgage account work?
Imagine a mortgage that is chequing account…and a chequing account that is a mortgage! You put every thing you owe into a single account. Then, you add the balances from your chequing accounts. Plus, you add your short-term savings – especially any small purpose- accounts, such as a vacation account – since you can always access your money if you need it.
You live out of the account, depositing income and paying expenses from it. Every deposit immediately pays down the principal on the mortgage – and all your other debts, for that matter! You will use some of that money to pay living expenses, but any money you don't spend each month – a dollar or one hundred dollars – stays in the account. And, with the interest calculated on a daily basis, every day that even a dollar of your income is in there, you will have less debt than you had before and so, will pay less interest. The result: every dollar you have works to keep your debt – and interest costs – lower.
Why does it work?
What makes flexible mortgage account unique is what makes flexible mortgage account work. Consolidation of debts and savings brings debts together at one low rate of interest and puts excess dollars to work lowering borrowings and reducing interest. Using this account as a daily account means you can take full advantage of the flow of money through the account. The account makes the most of every extra dollar, taking money that would normally sit in a low-interest-earning chequing or savings account and putting it against any borrowings. Plus, with the daily interest calculation, you pay interest only on what you owe each day, so every dollar saves you interest while it is in the account.
With its all-in-one design, this account can save clients a significant amount of interest while it speeds their debt reduction by years. Plus, since it frees up money on a monthly basis (by helping clients to smooth out monthly cash flow and lower their debt costs significantly), it can help clients to increase their investment activities.
This powerful account has another great benefit for clients. It's a bit of a chameleon – it can be used in a wide range of situations.
The mortgage buster… without paying more.
Thinking about "leveraging" for yourself?
Take your money in two directions
Super line of credit
The investment and education fund
High-powered chequing account
No debt? No problem!
The debt-credit continuum
The mortgage buster without paying more.
Clients with a mortgage will find that this account can help them own their home outright faster and for significantly less than they could expect with a more traditional approach.
First Flexible Mortgage Account is a new and better way to effortlessly pay off your mortgage years sooner and cut your interest costs by thousands of dollars… without reworking your family's budget.
It's easy. This account works by combining your mortgage – and any other debts you have – with your short-term savings, your chequing account and your income in an all-in-one personal borrowing and chequing account.
When your paycheque comes into the account, your debt drops instantly. Then, you simply draw on your Flexible Mortgage Account for day-to-day expenses.
This simple difference are what makes Flexible Mortgage Account work. Now you are paying off debt faster, saving thousands in interest charges and you can get at your money any time.
While Flexible Mortgage Account is new to Canada, the concept is a proven success in other countries. In Australia, more than one third of all new mortgages are being paid off sooner with plans similar to this one.
Find out how you too can pay off your mortgage sooner and save thousands in interest without changing your day-to-day activities. Call today for more information.
Thinking about "leveraging" for yourself?
Then, think First Flexible Mortgage Account!
Why?
Because with this account, clients…
Can borrow at Manulife One Base Rate*.
Don't have to think about margin calls.
Have access to loans of up to 65% of the value of their home.
Only need to borrow once – for all future investing.
Can pay back interest-only or interest-plus-principal – it's their choice.
Can segregate leveraged borrowing (with interest tracking and interest-only payment options!) while using the main account as a high-interest chequing account.
Plus…
We track the interest costs for clients – and report it once a month.
Clients will never need to go into a bank again!
Clients have the most innovative money-management tool; currently available.
With this account, you have the opportunity to wake the "sleeping" dollars in your homes and put that money to work for you every day.
Take your money in two directions.
Each year, as the annual RRSP deadline looms, many Canadians face a common dilemma – should they pay down their mortgages or increase their RRSP contributions?
With Flexible Mortgage Account, you don't have to make this decision: you can do both.
Flexible Mortgage Account helps you to reduce your monthly costs, so it can free up the dollars you need to meet your retirement savings plans. It can:
Help you meet your immediate RRSP needs through a lump sum contribution;
Allow you to adjust your monthly payments to support year-round RRSP deposits; or
Provide you with the opportunity to leverage the equity in your home to catch up on any unused contribution room.
And, if you receive a tax refund, it can be used to immediately reduce your Flexible Mortgage Account borrowings (and interest payments) and still be available to take back out if you need it!
Flexible Mortgage Account is a unique, all-in-one personal borrowings and chequing account that can help you dramatically reduce your monthly expenses and pay down your debts – including your mortgage – faster. It does this by combining your short-term savings and chequing account balances with your long-term debt. Then it applies a low interest rate to the entire debt amount. And, since the interest is calculated on a daily basis, every dollar you put into your account – even if it is there for one day – immediately works to reduce the amount borrowed and the amount of interest you pay.
With Flexible Mortgage Account, you can pay down your mortgage and increase your RRSPs… one less decision to worry about!
Super line of credit.
With this account, clients with little or no mortgage can have a "super line-of-credit", one that gives them:
Access to the money they need for investing, for a vacation, for a new car, for renovations – whatever they need (without asking a "bank manager" for permission!);
One low rate of interest (Manulife One Base Rate*), no matter why they need the money; and,
The power to pay back the money they borrow easily, quickly and for less than with other borrowing vehicles.
The investment and education fund.
If you are a client – with or without a mortgage – who needs to speed up your retirement savings plan… who want to invest more aggressively… or who needs to save (or pay now!) for university or college tuition (not to mention books and accommodation and living expenses!) for one, two or more children?
With this account, you can use the equity you've built in your home to send your children to school and (or) fund your investment plans and retirement savings. Investments borrowings can be segregated to track interest costs (we report it monthly!)
And you have the option of paying those investment borrowings down or only covering the interest costs.
High-powered chequing account.
Once the debt is gone, the account become a high powered chequing account, one that pays one of the best rates available on all credit balances – from dollar one. At the beginning of 2020 interest rate was 1.30% (but unfortunately because of pandemiс it dropped significantly down and not only in this bank). Plus, should they need it, clients still have the access to the line of credit with interest prime rate plus 0.6%.
And, no matter why you open this account, you still have access to all the other great benefits – including simplified day-to-day finances – that this account offers.
Increase your interest in flexible mortgage account.
You already know that flexible mortgage account helps you become debt-free faster and for less than traditional mortgage. But that also means that it won't be long until you are in a credit position! Then what?
Well, with flexible mortgage account, there's life after debt! Once you are debt-free, you can continue to use your all-in-one, simple and sensible account… and you'll earn high interest on any positive balances you carry in the account.
How high? How about competitive, money market high? With every "positive" dollar you deposit, you earn a rate equal to the top tier Advantage Account rates on the balance… from "dollar one".
After all, Flexible Mortgage Account makes every dollar you earn work for you – harder and more effectively than it ever did before. So it makes sense that, once your debt is gone, your money should still work as hard as possible.
No debt? No problem!
If you don't have any debt, you can open a flexible mortgage account with no initial borrowings. You will have the best "line of credit" available in Canada. And until you actually borrow money, you'll have an all-in-one chequing account that simplifies your day-to-day finances and pays relatively good interest rate on each dollar on your account (before pandemiс the rate was 1.3%). Today's rates you can check on the website Manulife Bank.
Don't let yourself miss out!
The debt-credit continuum.
MORTGAGE
65-40% LTV
SUPER LINE OF CREDIT
40-0% LTV
HIGH POWERED CHEQUING ACCOUNT
0% LTV
Debt managers.
They want to get out of debt quickly, without sacrificing what extra money they have left for themselves each month. They:

Are a young family (with single or double income).
Have at least 20% equity in their home Are fairly heavily mortgaged – but are committed to driving down their debts.
Have multiple expenses to meet – kids, investments, retirements plans and other debts.

Equity owners.
With little debt, they want to make use of their home equity, without paying more than they have to in interest costs. They:

Have kids ready to go to school, get married or buy homes of their own.
Have built up a great deal of equity in their home.
Are trying to meet retirement planning needs or other investment plans (such as leveraged investing).
May slide in and out of debt, so they want to pay as little as possible on their debts and make as much as possible on their positive balances

Debt-free investors.
They own their home outright, have an investment plan in place and have regular income coming in. They:

Are empty-nesters looking towards retirement.
Want to keep their financial options open? For travel, for changing life needs, for their investments.
Would enjoy simpler banking. Want to make as much as possible on their short-term cash. May look at leveraged investing to supplement their retirement income.

The account:

Saves interest (with its floating rate).
Speeds debt reduction (since it uses every dollar deposited to immediately reduce borrowings).
Puts income and "idle" money to work (further reducing borrowings and related interest costs).
Smooths month-end financial pressures (since there are no fixed payments).
Gives clients access to their money whenever they need it.

The account offers all the benefit it offers as a mortgage, plus it:

Can help clients meet larger, later-in-life expenses, such as a child's tuition or wedding costs.
Gives clients the best of both worlds: every penny owed is paid off quickly and every penny held earns high-powered interest.
Offer sub-accounts as a convenient way to track leveraged investing.

The account offers all the benefit it offers as a mortgage and a super line of credit, plus it:

Offers clients a simple and sensible way of managing all their day-to-day banking needs.
Provides clients with the security of a line of credit to meet big expenses, such as investments, vacations or renovations.
Pays clients one of the best interest rates available on their positive balances.
Offers sub-accounts to track separate investment borrowing.
*This table was created using the information from Manulife Bank brochure "Manulife One".
The traditional approach to money management means that each month, people just like you all across Canada go through financial hoops to meet all their expenses and pay their bills, cover borrowing costs and (try to) put something away with savings accounts and investments. Does your month looks something like this?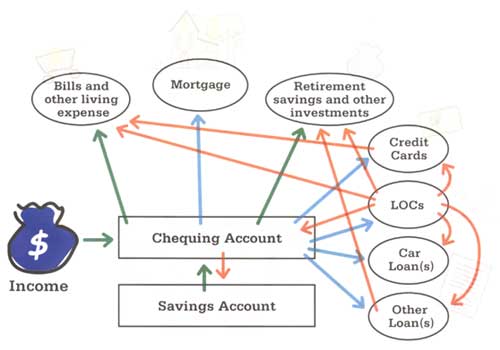 *This illustration was taken from Manulife Bank brochure "Manulife One: simple and sensible".
Your income goes into a chequing account each month. From there, you funnel it off to pay bills, cover living expenses and to meet any investment plans. When there's money left, you move some to savings.
There are so many ways to borrow money, and most people have at least one – and usually many more – debt vehicles. So, each month you make payments – principal and interest – on a mortgage. Maybe you have a line of credit (secured or unsecured) that requires a payment. Plus you likely have car and other loans to cover. And – just like most Canadians – you will probably have at least one credit card balance to pay.
During the month, you cover some expenses with credit cards or the line of credit. Plus, you may try to stretch your investment dollars with that line of credit or even a loan. Like many people, you might have to use one debt vehicle to cover another. You may even have to pull money back out of your savings to cover an unexpected expenses or to cover all your bills in a month.
Whatever your personal situation, with the traditional approach, your money moves in and out, back and forth and around and around.
Does this really make sense?
Flexible mortgage account: simple and sensible.
With a non-traditional flexible mortgage account things are different. You have an all-in one borrowing account with a borrowing limit that is based on the value of your home.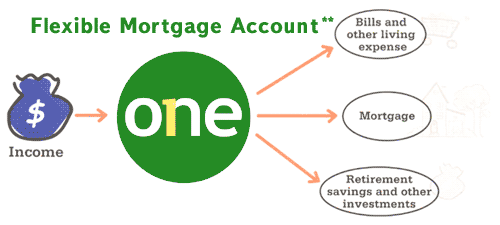 *This illustration was taken from Manulife Bank brochure "Manulife One: simple and sensible".
Your income is deposited into your account. When that happens, your balance immediately drops – and you pay interest on that lower amount until you spend your money.
Live out the account. Pay your living expenses with cheques, a debit card, or via Internet and telephone banking. Make your investment deposits through cheques or pre-authorized cheques. Your account is your mortgage, your line of credit and all your loans.
No loan payments. No "tight" times in the month.
Interest is calculated daily. At the end of each month, you are charged the accumulated interest for the month – you only pay interest on what you owe on any given day.
That's it. Saves you thousands by putting your money to work… for you. Can it get any simpler?
Client requirements:
Flexible mortgage account applicants should:
Be 18 years of age or older;
Have a verifiable, regular source of income;
Be able to adequately service debt load;
Own a detached or semi-detached house, town house or condo;
Be the primary resident(s) of the home;
Have appropriate homeowner's insurance;
Be up-to-date with realty taxes; and,
Have an acceptable credit history.
Required equity:
Applicants should have at least:
35% equity of a house or condo located in an approved lending areas;
OR
40% equity in a home located outside of approved lending areas.
Unacceptable properties:
Unacceptable properties include:
working farm properties;
leased land;
investment or recreational properties;
home built on concrete slab foundations;
duplexes and triplexes (i.e. multi-storey buildings with two or more rental units); and,
properties with water supplies other than well or city water.
Ownership:
Single or joint. (To meet requirements of provincial family law, anyone entitled to claim on the property under applicable family law must be named on the account.)
Borrowing guidelines and limits:
Generally speaking, clients receive:
65% LTV for houses or condominiums located in approved areas.
60% LTV for homes located outside of the approved lending area.
We have minimum approval limits of:
$50,000 for first-position accounts.
Sub-accounts:
Client may sub-divide their borrowings with:
5 variable-rate sub-accounts allowed for both regular and early opening accounts.
1 fixed-rate sub-account allowed on regular accounts of this type.
Additional product features:
Platinum Plus Master Card Credit Card
Money management software (Quicken and Microsoft Money)
Single, comprehensive all-in-one statement
Access to Secure View account aggregation software
Fees and interest rates:
The monthly fee is $16.95 per account and includes the features outlined above as well as unlimited:
ABM withdrawals
Debit card purchases
Internet and telephone banking
*As of 28 June 2023, the Manulife One Base Rate is 7.45% and the annual interest rate is 7.45%. Both are variable rates, calculated on the daily closing balance and charged monthly. The monthly administration fee is $16.95 ($9.95 for seniors). Rates and fees are subject to change.
**Manulife, Manulife one, the "one" logo and the block design are registered trademarks of The Manufacturers Life Insurance Company and are used by it and its affiliates including Manulife Bank of Canada.
***The Manulife One Base Rate is a variable rate based on Manulife One Base Rate that fluctuates and is therefore notguaranteed. It is determined by the Bank.
****Borrowing to invest may be appropriate only for investors with higher risk tolerance. You should be fully aware of the risks and benefits associated with investment loans since losses as well as gains may be magnified. Preferred candidates are those willing to invest for the long term and not averse to increased risk. The value of your investment will vary and is not guaranteed, however you must meet your loan and income tax obligations and repay the loan in full. Please ensure you read the terms of your loan agreement and the investment details for important information.